Weekend Troopers III: Sat. March 25 and Sun. March 26
11:00 AM to 5:00 PM and 8:30 AM to 12:30 PM
Cost is $350 both days, $175 single days.
Limit is 26 skaters (13 per side). Goalies are on the house. Ages 21+. Food and beverage included.
---
Troopers III is on the horizon. Feedback from our Twin Oaks Trooper weekends has been exceedingly positive. We have decided to hold another this March.
Colin White, Grant Marshall and Bruce Driver have committed and we are hoping to convince Jim Dowd to join us as well. That is a total of six Stanley Cups worth of hockey experience on the ice to help improve your game.
We will focus on all the hockey basics and we will also tailor the drills to what we feel the group needs to work on. Last time out we zeroed in on shooting technique and puck protection. With six hours of ice over two days we can cover the fundamentals and also work on the finer aspects of the game.
Here are the day's agendas:
Saturday, March 25

11:00 AM- 12:15 PM -- -- - on-ice
12:45 - 1:15 PM -- -- - snacks (re-energize)
1:30 - 3:00 PM -- -- - on-ice
3:30 - 5:00 PM -- - Hearty meal and adult beverages served in Crimson Room. Pros will be around to mingle and exchange hockey stories.

Sunday, March 26

8:30 - 9:30 AM -- -- - on-ice
9:45 - 10:15 AM -- -- - snacks (re-energize)
10:30 AM- 12:00 PM -- -- - on-ice
12:30 PM -- - Adult beverages in locker rooms, hockey banter! We might also head outside in case the weather permits.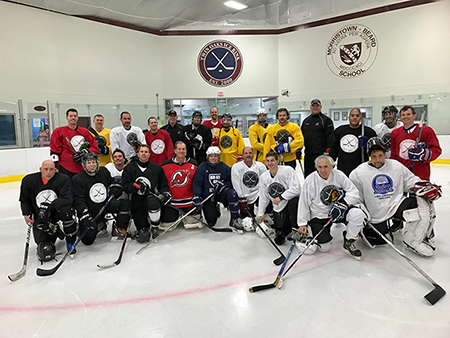 Weekend Troopers at Twin Oaks Ice Rink - November 2016