Where is Twin Oaks Ice Rink located?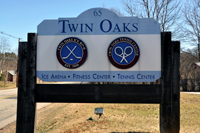 Twin Oaks is located at 65 Columbia Rd., in Morristown, NJ.
From the north on I-287 S: South to exit 37, Rte 24 E. Take exit 2A toward Rte 510 W. Merge onto Columbia Turnpike and continue for .9 miles to Twin Oaks Ice Rink on your left. Enter the arena at the farthest entrance.
From the south on I-287 N: North to exit 36A and merge onto Morris Ave toward Rte 510 E. Continue on Columbia Rd. for .4 miles to Twin Oaks Ice Rink on your right. Enter the arena at the farthest entrance.
---
Do you have a public skate session?
We do not have public skating sessions at this time.
---
Do you rent skates for your clinics?
No, we do not rent skates.
---
We have a full-service Pro Shop that sells blades and provides skate sharpening. Learn more
---
Do you teach children to skate as well as play hockey?
Yes, good skating skills are very important to enjoying and playing the game so we focus on teaching basic skating techniques in our Learn-to-Skate program.
---
Where should we start with our child?
There are a variety of ways to introduce your child to hockey depending on their age and their interests. For children aged 4 to 8 we have a Learn-to-Skate program that introduces them to basic skating skills. For those who are ready for hockey and aged 5 to 7 we have an excellent cross ice introductory league program called Mini-Mites. As your child's skills develop there is a Stick and Puck development clinic for children aged 5 to 17 and Youth Open Hockey. The benefit of participating in clinics is that your child learns in a fun, non-threatening environment with qualified trainers and coaches who will start your child off right.
---
What equipment does my child need to learn to skate?
Your child will need well-fitting ice skates and a helmet. Be sure they are dressed warm enough to enjoy the session, but lightly enough that they can move and be flexible.
---
What equipment does my child need to play hockey?
Full hockey equipment is required for Mini-Mites, all hockey clinics, lessons, camps and games. Full equipment includes: skates, shin guards, jock, shoulder pads, elbow pads, pants, hockey gloves, stick, helmet with cage, mouth guard, and neck guard

---
What is the age range for each youth hockey level?
We have an in-house youth league at three levels: Mite, Squirt and Pee Wee. Age ranges follow the USA Hockey guidelines, as follows for 2010:
| | | |
| --- | --- | --- |
| Mite | Ages 8 & under | DOB 2002 & younger |
| Squirt | Ages 10 & under | DOB 2001 & 2000 |
| Pee Wee | Ages 12 & under | DOB 1999 & 1998 |
Occasionally we run programs specifying Bantam and Midget ages, which are as follows:
| | | |
| --- | --- | --- |
| Bantam | Ages 14 & under | DOB 1997 & 1996 |
| Midget 16 | Ages 16 & under | DOB 1995 &1994 |
| Midget 18 | Ages 18 & under | DOB 1993 & 1992 |
---
Since we do not have public skating, we do not have traditional skating birthday parties. A group lesson with "controlled" scrimmage can be arranged as long as all players wear full hockey equipment and each has parental/guardian permission. Our meeting room upstairs can be booked as a party room, but set up and clean up is the full responsibility of the party host. Charges will be based upon the type and length of clinic, and use of the meeting room.
---
Yes, we have adult open hockey Monday, Wednesday and Friday from 12 noon to 2pm. All skaters must be 18+ years. The cost is $10 per player. The first two goalies are paid $10 at the end of the session. No need to sign-up – just show up.
---
Yes, we a have year-round in-house youth league at the Mite, Squirt and Pee Wee levels. Players must sign-up through the rec program of their choice. Unfortunately, we do not have the ability to offer placement of players on teams. The fall/winter season runs from mid-September through to the middle of March. The spring league runs from the end of March through to the middle of June.
---
Yes, we have year-round in-house adult leagues B, C and D for players 18 years and older. Leagues are divided by ability from A, the highest level, to C, plus we have a Developmental league. It's a great way to stay in shape, meet fellow players and have some fun.
---
All fees are non-refundable after the start of the first session. Credit towards future programs maybe issued at the discretion of the General Manager less a $25 administration fee. Our policy for Summer Camp cancellations is different.
---
Twin Oaks' intent is to remain open during inclement weather unless a state of emergency has been issued by the State of New Jersey or the weather is too severe. Check this website for rink closings during inclement weather or call the rink, 973-292-5699.
---
How can I advertise my business at Twin Oaks?
Dasher board advertising opportunities are available now, and advertising on our website will be available shortly. For more information and rates, please contact Paul Nielsen at 973-292-5699 or pnielsen@twinoaksicerink.com